The month of March at the Watson School at CSHL brought the Bulgarian tradition of martenitsa, thanks to first-year Ph.D. student Georgi Yordanov. After the long winter, red and white yarn Pizho and Penda dolls or the more modern version, woven bracelets, are worn until the first sign of Spring is seen: a crane, a swallow, or a tree in blossom. Georgi joined the Watson School in August 2013, originally from Sofia, Bulgaria but most recently at the University of Liverpool in the UK, where he earned his undergraduate degree in molecular biology. After an intense Fall term of courses at the Watson School and the seemingly endless Long Island winter, Georgi is looking forward to Spring for scientific reasons, too.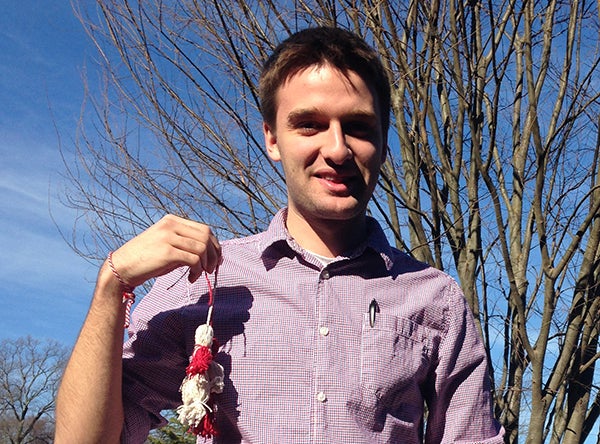 For Watson School students, the Spring term means three laboratory rotations—each a six-week research experience in a different CSHL lab. Rotations allow students to get to know the research goals and experimental techniques of the individual labs. That experience helps them decide which group best fits what they want to do during their Ph.D. Because the rotation is short in comparison to the time it takes to find answers to the big biological questions that are being studied, students usually focus in on developing new experimental methods or contributing to an ongoing project. Rotation projects rarely deliver answers but they often form the basis of bigger things to come.
Georgi wants to cure cancer. He realized this during his internship at a large pharmaceutical company following undergraduate studies. His research team visited a cancer clinic involved in early stage drug trials. Georgi remembers: "We talked with the nurses who administer the trials. They literally thanked us for allowing them to save the lives of their patients. It was then I realized what a devastating disease cancer is and how my curiosity about science could have a huge impact on so many people's lives."
For his first rotation, Georgi joined CSHL Assistant Professor Chris Vakoc's lab. The Vakoc lab uses state-of-the-art genetic and genomic techniques to identify potential therapeutic targets for cancers of the blood, including leukemias. Chris and his group focus on a large group of proteins—chromatin regulators—that control the molecules a particular cell makes. Cancer cells often make the wrong molecules or too much or too little of particular ones, so these chromatin regulators have proven to be important therapeutic targets.
Georgi was interested in doing something different. He wanted to study how cancer cells communicate with the normal cells surrounding them in a tumor. Signals pass between cancer cells and normal cells, and to treat tumors effectively, the signals have to be blocked. For his rotation project, Georgi decided to develop a simplified cell-cell communication system and then to use the Vakoc lab's genomic techniques to identify the signals. Georgi grew different types of cancer cells and normal cells in combination to encourage them to communicate, but the rotation was over before he had a chance to try to find out what signals the cells were sending and receiving.  He learned a lot in the Vakoc lab. "Chris was a great mentor. He gave me a lot of freedom in the lab and let me develop my own ideas." Georgi is determined to continue to find new ways to understand and ultimately treat cancer. In the meantime, he's learning more about pancreatic cancer with CSHL Professor David Tuveson and hoping he won't have to wear the red and white martenitsa much longer.
---
---