Biology is a question of scale. Some biologists study the large scale—populations or whole organisms. Some biologists study a medium scale, organs and tissues or even single cells. Still others may look for understanding at a smaller scale, such as cellular compartments or molecular complexes. And the biochemists study the smallest scale: molecules, and the atoms within those molecules.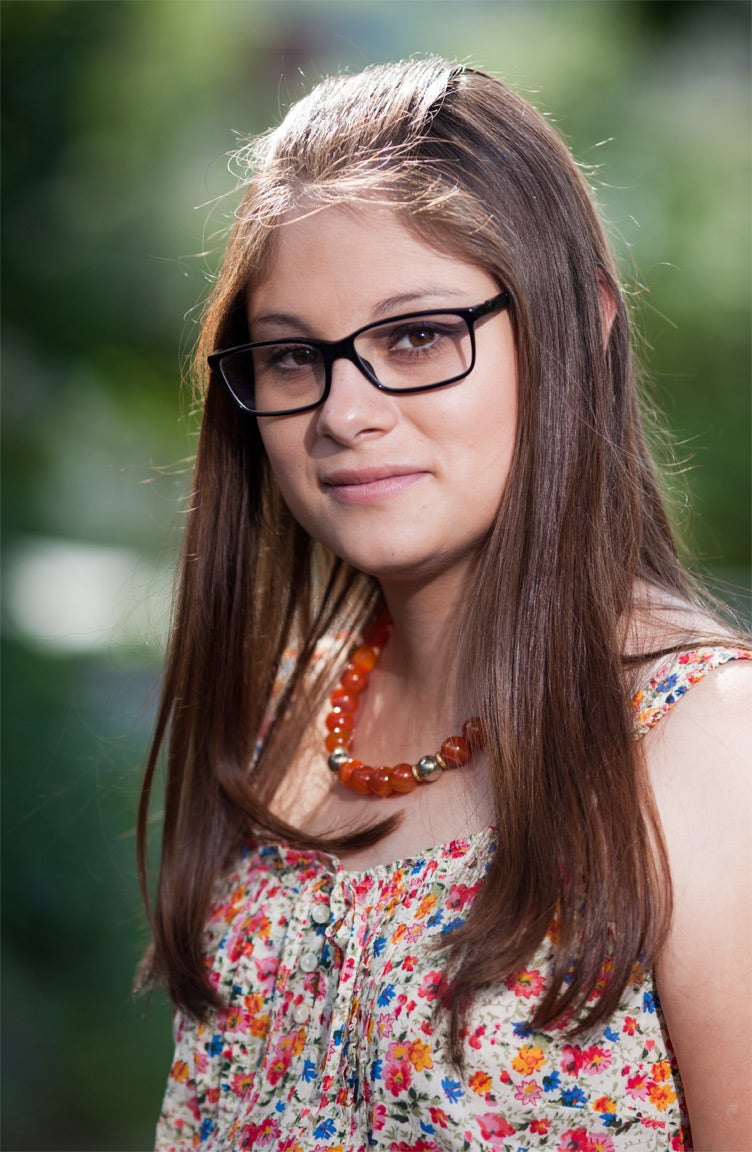 Annabel Romero Hernandez, a third-year student at Cold Spring Harbor Laboratory's Watson School of Biological Sciences, studies atoms and molecules, biological research at a very small scale. She has also spent 244 days portraying the world around her on a very small scale.
On January 1, 2015, Annabel started what she calls a "365-painting project." She has made it her evening ritual to create a picture within the confines of a circle just 35 millimeters in diameter—every day for an entire year. Her originals are a combination of pencil sketch and watercolor paint. Then she snaps a photo of each completed painting on her phone, and posts it to Instagram.
"It really helps me to relax and also makes my day a little bit happier," said Annabel of her nightly art ritual. "Sometimes I'm too tired when I come back home late, but in the end I do the painting anyway—it makes this whole project more rewarding." Annabel only took up painting about a year ago.
Unlike her newfound enthusiasm for making art, Annabel has been attracted to science since she was young. She said that, growing up, she believed it was her calling to answer big questions about the world around her, and thus saw science—a field of study devoted to observation, experimentation and answering questions—as a possible career path. However, growing up in Mexico City, Annabel recalls being pushed to find a typical job rather than pursue the answers to what many in her hometown saw as pie-in-the-sky scientific questions.
Yet, Annabel did not give up her dream of a career in science. "In high school, I did some specialization in chemistry and biochemistry," said Annabel. "At university, I majored in biochemistry and became interested in molecular studies."
A star student at Instituto Politécnico Nacional, Annabel initially thought she would use her scientific knowledge to secure employment in the biochemical industry. However, a visit to Portland State University, where she met scientists studying DNA, changed her mind.
"The visit opened my eyes to scientific research as a real career option," said Annabel. "I knew I would prefer working in an academic lab, answering questions, to working in industry."
Today, working in Dr. Hiro Furukawa's lab at CSHL, Annabel studies the molecular mechanisms of N-methyl-D-aspartate (NMDA)-receptor inhibition. NMDA receptors mediate fast synaptic transmission in the central nervous system. The receptors come in several subtypes, each with a different specialization and built from different protein subunits. Annabel's first goal is to understand the structural features that enable antagonist molecules to bind the NMDA receptor. Her second goal is to determine why zinc ions inhibit some subtypes of the receptor but not others.
Scientists have studied NMDA receptors exhaustively because their activation plays a major role in brain functions, as well as dysfunctions that can result in stroke, pathological pain, neurodegenerative diseases and schizophrenia. Thus, "understanding how these receptors may be inhibited could [in cases of dysfunction], serve as a functional therapy against neurological diseases and disorders," said Annabel.
Despite her success in the lab, the transition from Mexico to Cold Spring Harbor has not always been easy. "In the beginning it was a little bit difficult," said Annabel, recalling that it was especially tough to leave behind friends, family and her mom's home-cooked meals (tacos made in the U.S. simply do not taste the same as those made in Mexico, Annabel asserted). Many of Annabel's paintings feature images of Mexico—it's architecture, flora and fauna, and colors and patterns. "But in what you get in the end is all worth it. Now when I visit Mexico, I miss New York and the lab!"
With her success as a graduate student in the WSBS, Annabel serves as a role model to others interested in careers in science in her home country.
Recently, Annabel returned to her alma mater to speak to a mixed group of students and professors. Before her audience, she discussed her experience as an international student and also her thesis, with the hopes of giving other students the confidence necessary to advance their educations and careers in science, particularly those considering a leap abroad.
"It was a great experience to reconnect with my previous professors and chat about what new experiences I've learned," said Annabel. "Also, having the opportunity to talk to students and give a little bit of advice, since when I was back there I had to do everything by myself…there was no one with previous experience that could help me or give me details about applying to grad school outside of Mexico."
The feedback she received was overwhelmingly positive, said Annabel, especially from the students.
"I was surprised that after my talk several students came to me to ask more specific questions and advice on how to apply for grad school or 'How do I get motivation in science?' which I think was really good: it means they really got my message and they wanted to know more details on how they can succeed in science."
Many of Annabel's tiny portraits portray things she's observed or experienced at the Lab. This includes some of its buildings, and also recently a portrait of herself running the "Plate Race" at the Lab's 125th anniversary celebration this July.
Though she has not yet painted any of the NMDA receptors she studies as a part of her 365-painting project, Annabel has rendered several such paintings for a recent academic poster presentation.
One unexpected result of the 365-painting project, she added, is that she now pays more attention to the tiny details in life—like how shadows can have different shapes and colors. And how the interactions of the thousands of atoms that make up the NMDA receptor control synaptic transmission.
---
---