Sunday, April 19, marks the 12th Watson School commencement, and fittingly, we are awarding twelve Ph.D. degrees. The graduates come from seven countries, eight labs, and represent the breadth of research at CSHL. The graduates are moving on to positions in academic research, the biotech industry, management, and the semi-secret world of Google X, living all around the world—from Singapore to Berkeley to the Cambridges, both Massachusetts and England. Among them, they've published 25 papers—including seven in Cell, Science, or Nature—and contributed a tremendous amount to what we understand about small RNA biogenesis, the regulation of gene expression, neuronal processing, the molecular weaknesses in a variety of cancers, and how the brain is connected. The graduates have become scientific leaders. And they're great individuals who have done a tremendous amount for the Watson School and the Lab in their short time here. We're excited to see what they will do in the coming years.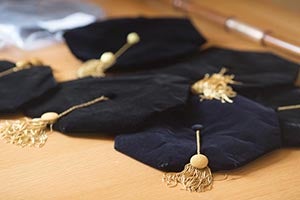 Sunday's graduation will also see us award three honorary degrees to individuals who have advanced scientific research, education, and the public's appreciation of science through their work. The first Watson School honorary degrees were awarded in 1999, before any students had completed their degrees, when scientists David Baltimore, Seymour Benzer, and Gerry Fink were honored for their research accomplishments and commitment to promoting scientific discovery. This year, we confer degrees on Hanna Holborn Gray, Charlie Rose, and Lord David Sainsbury, who have advanced science in powerful, very different ways: educational leadership, public engagement with science, and philanthropy, respectively.
We thank all our graduates and honorary degree recipients for their contributions to science and wish everyone a Happy Graduation 2015!
---
---