Cold Spring Harbor, NY — The Christina Renna Foundation presented its inaugural grant of $25,000, raised at the An Angel's Wish Gala, to Cold Spring Harbor Laboratory (CSHL) for pediatric cancer research on Friday, January 11, 2008. The funds will support CSHL's efforts to combat pediatric brain tumors which claim the lives of 20,000 children each year in the United States.
Members of the Christina Renna Foundation present its inaugural grant to Dr. David Spector, Director of Research at Cold Spring Harbor Laboratory.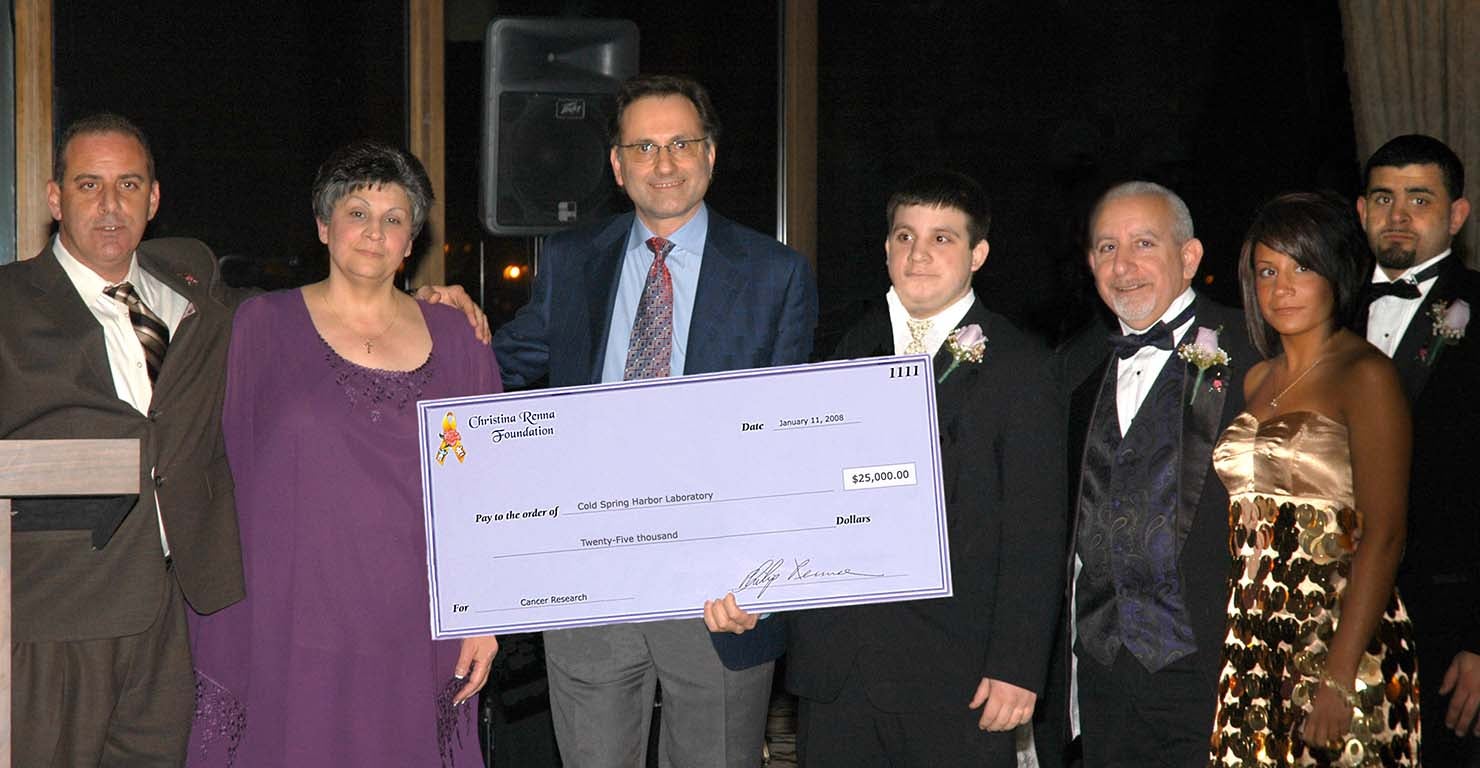 "On behalf of our scientists and research staff, I would like to thank the Christina Renna Foundation for its financial support of the cancer research program at CSHL," said Bruce Stillman, Ph.D., CSHL president. "Our research on pediatric cancer is made possible by dedicated efforts like those of Christina's family and friends."
The grant will support research of pediatric brain tumor structure by Linda Van Aelst, Ph.D., a CSHL professor and researcher. "We hope to identify the genes responsible for creating the tumors, and understand how these cells allow tumors to develop," Dr. Van Aelst said. "Once we acquire this knowledge, the potential for new therapies to combat this form of cancer becomes a reality."
The Lindenhurst based Foundation was established in honor of Christina Renna, a Long Island teenager who died of soft tissue cancer in January 2007. Philip Renna, Christina's father and director of the Foundation, has been a CSHL employee for close to three decades. Through this tragedy, his family came to understand that money must be raised not only to assist families dealing with this disease, but also to find a cure so no family would ever have to deal with it again. During the Gala, Christina's uncle and president of the Foundation, Daniel Renna told the guests that "We all desperately sought ways to make Christina's life a little bit better when she was so ill. In reality, nothing short of a cure is what was needed."
Among those attending the Gala were fellow CSHL employees who came out in support of Phil and his family. "I was so moved by the heartfelt sentiments and the tremendous sense of community that filled the room at the Angel's Wish Gala," said Joan Lui, a fellow CSHL employee. "I felt so proud of Phil for the beautiful and successful job that he and the Foundation did not only on the Gala, but also on the handful of other outreach events that they've organized in just one year"
During its inaugural year, the Foundation organized events to raise funds for cancer research and increase public awareness of cancer research programs on Long Island. "With the need for funding cancer research at an all-time high, the Foundation wanted to host events where the community could learn about the work of cancer support groups and research institutions, and then support those efforts through the Foundation," said Philip Renna.
"The community's response was overwhelming and has inspired Foundation members to plan more events for 2008, including efforts to provide assistance to families and children who are affected by cancer. "We can make a difference together, raising awareness and research funding for the many different types of pediatric cancer," Renna said.
Written by: Public Affairs | publicaffairs@cshl.edu | 516-367-8455
About The Christina Renna Foundation
The Christina Renna Foundation is a 501(c)(3) public charity supporting children's cancer research and furthering awareness and education through the support of cancer groups and outreach programs for the direct support of those in need. For more information, please visit: www.crf4acure.org.
About Cold Spring Harbor Laboratory
Founded in 1890, Cold Spring Harbor Laboratory has shaped contemporary biomedical research and education with programs in cancer, neuroscience, plant biology and quantitative biology. Home to eight Nobel Prize winners, the private, not-for-profit Laboratory employs 1,100 people including 600 scientists, students and technicians. The Meetings & Courses Program annually hosts more than 12,000 scientists. The Laboratory's education arm also includes an academic publishing house, a graduate school and the DNA Learning Center with programs for middle and high school students and teachers. For more information, visit www.cshl.edu
---
---