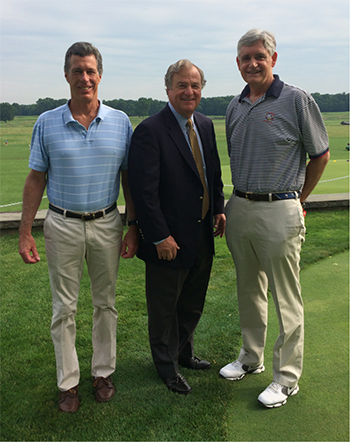 Cold Spring Harbor, NY — On June 17th, 190 golfers took to the greens on a summery day at Piping Rock Club for Cold Spring Harbor Laboratory (CSHL)'s 21st annual golf tournament. Run by golf chairman Eddie Chernoff, the event featured a morning and afternoon shotgun start and a live auction. The outing brought in over $270,000.
At the awards dinner, Dr. Bruce Stillman, President and CEO of CSHL, introduced the event's honoree, Ed Travaglianti, President of TD Bank Long Island and a member of CSHL's Board of Trustees. "With a banking career spanning 40 years, Ed is at the top of the list when it comes to preeminent citizens of Long Island," Dr. Stillman remarked, "Cold Spring Harbor Laboratory is very fortunate to have had Ed's guidance and counsel for so many years."
Mr. Travaglianti also sits on numerous other boards including those of Long Island University, the Don Monti Memorial Research Foundation and Winthrop Hospital.
Written by: Communications Department | publicaffairs@cshl.edu | 516-367-8455
---
---